A 12-week coaching relationship that strengthens and solidifies the sovereignty that is always (and already) yours.
You can see her: this vision of who you truly are, the woman you know you have the capacity to become and be.
A woman who:
takes risks
does not hold back in word, action, or emotion
speaks her mind
refuses less-than healthy relationships, patterns, behaviors, and/or jobs
is done with playing small
is fully herself (almost all of the time)
And . . . let's be honest: there are significant costs to being fully yourself, speaking your truth, busting through obstacles, walking away, letting yourself be completely seen.
There are also costs to NOT being fully yourself.
Sovereignty acknowledges the complexity, the dissonance, and the gap between where you are where you want to be and it invites and enables you to be 100% yourself, 100% of the time.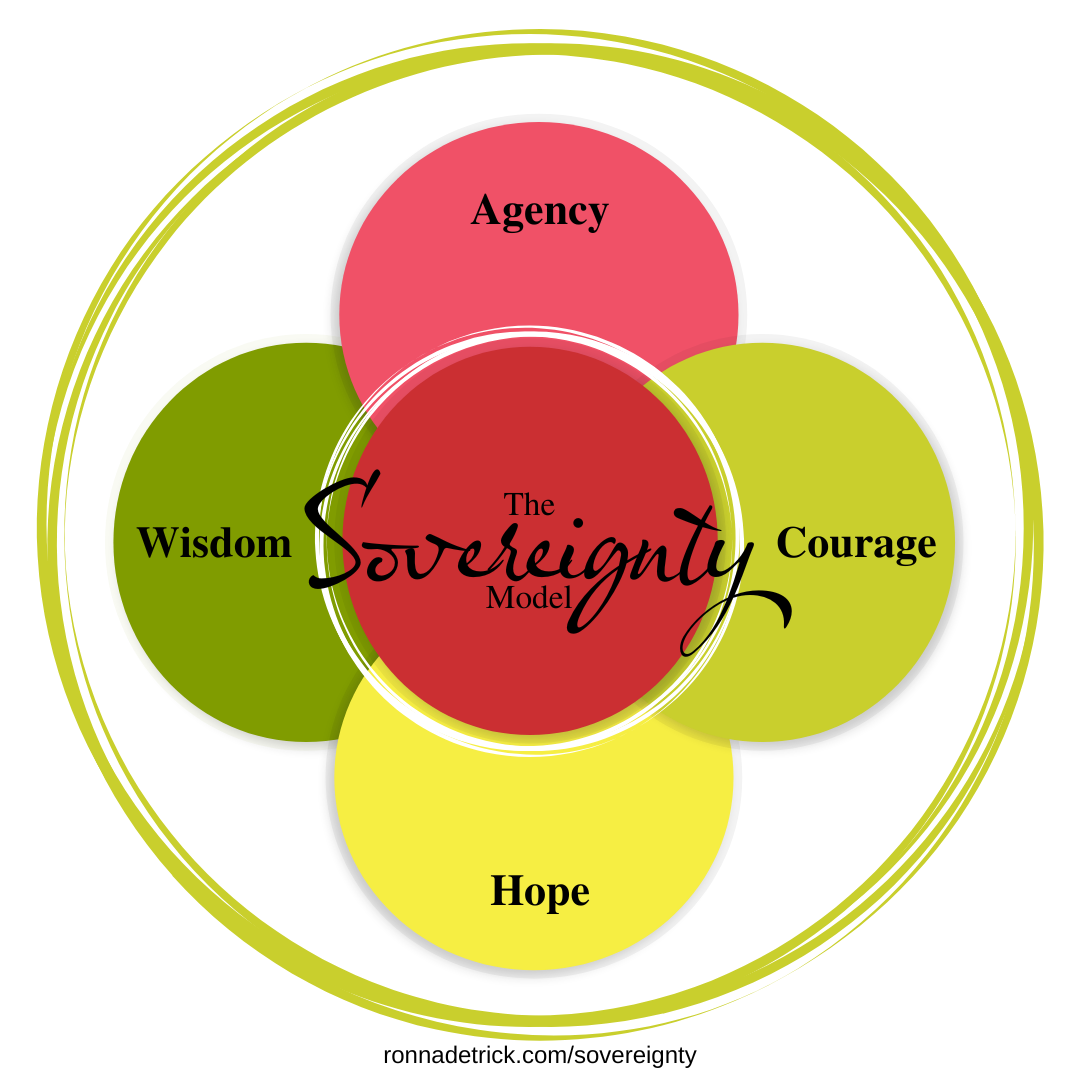 Four interconnected realms of focus and attention help me return, again and again, to my own sovereignty. Not perfectly. Not without risk or cost. Not forever-and-ever-amen. But most-definitely with intention, alignment, and faith. Faith in who I
know
myself to be.
WISDOM
AGENCY
COURAGE
HOPE
The struggle is not the ability to
hear
your own wisdom—your intuition, your gut, that know-that-you-know-that-you-know voice within— it is
trusting 
it consistently!
Sovereignty invites, encourages, and strengthens exactly this.
Knowing that you
have
agency and actually
acting,
doing, being,
is easier said than done. Making aligned choices automatically includes risk and cost.
Sovereignty means naming this and still making choices that reflect who you truly are.
Wisdom. Check. Agency. Check. Stepping forward? Mmmm. That's another thing entirely, yes?
Sovereignty compels the smallest, almost imperceptible steps and the boldest leaps.
And not alone! (Promise.)
Hope is a defiant perspective; a given that changes everything.
Sovereignty's hope is wild, expansive, and brave. It is bold and dangerous and beautiful. It is everything.
More of that, please!
Twelve weeks of 1:1 coaching
that dive deep into
your
sovereignty and what strengthens and supports such: wisdom, agency, courage, and hope.
Proprietary content that I've curated and created through decades of working with women, my writing, and my own lived-experience and sovereignty-story.
Twelve sacred, amazing, and archetypal stories (the ones I LOVE!) that come alongside you to strengthen, encourage, and sustain the sovereignty that is always (and already) yours.
Practical tools to use these twelve weeks and ongoing. Worksheets. Journal prompts. More.
Two, 1-hour calls/month filled with content, support, and applicable next-steps. Each call includes specific teaching, a sacred story, specific "homework" to practice and apply, and more than all else, a generative and safe space to explore the sovereignty that is already and always yours.
$1500 (US, Europe, UK)
$1200 (US$ in Canada, Australia, New Zealand)
Pay in full or monthly.
If cost is prohibitive, please email me (

[email protected]

) to talk about extended payment arrangements and/or a discounted rate.
I cannot recommend Ronna & SOVEREIGNTY enough. During our weeks together, I rediscovered the sovereignty that has always existed in me, but was buried through conditioning and fears. Ronna seamlessly weaves structure and a framework, along with ancient, sacred stories of women—some of which I knew, others I didn't. By reclaiming those stories of silenced women, we learned as participants to reclaim ourselves — to tell our own stories, to claim our own stories, and to claim our sovereignty. Every week I looked especially forward to these stories, which now feel a part of me. There is SO much wisdom through the container that Ronna provides. Beyond grateful. ~
Tricia Bolender
, Executive Coach
Book a free call to talk with me, ask questions, and discern fit.
SOVEREIGNTY was a "yes" for me because I wanted the opportunity to learn from Ronna. The most valuable impact from our time together was being able to acknowledge that in many, many ways I already am sovereign; that I contain all the necessary components. ~ Jennie Alexis, Values Leader
It's a rare thing to show up on a call led by someone of Ronna's deep well of knowledge and feel as though you are not only welcome, but that the teacher feels honored to have you. I could feel myself reconnecting, finding my way back to the origins of truth that thread throughout the many stories that for so long have been lost. It felt like a reconciliation and renewal—like finding my way home. ~ Jill Prescott, Spiritual Badass
This program was way more and way better and way deeper healing than I knew to ask for. Though I had an idea it would be awesome, what I got was a gift I didn't know to ask for, much less receive. 
I'm so grateful I said, "yes."
~ Sheri M.
I'm so glad I decided to participate in SOVEREIGNTY. Ronna provided useful resources and practical tools that help me show up in the world as my whole self.
Anyone looking to grow in their confidence, groundedness, or feminine power will benefit. 10/10, I recommend.
~ Mo D.
I have never considered myself through a lens of sovereignty. For the first time in my life, I feel that I have permission. Ronna gave me a gift I didn't know I needed or wanted.
~ Terri H.